Taking into account that a pair of binoculars will be useful for you to notice things that, with the naked eye, you will hardly see, it is however very difficult to extricate yourself from the various models and types on the market.
In order to determine how well a pair of binoculars performs optically and how easy they are to use, go to one store and try several before making your final decision. That said, here are some basic tips to make it easier for you How To Choose the Right Binoculars.
What Additional Features is Important to Consider when Buying Binoculars?
Also consider the external material, to protect the mechanisms and lenses, such as the rubber coating, or the waterproofing and anti-fog of the lenses.
In addition, you can also take into account the price and, depending on the intended use, it may be worth buying one dedicated to the activity you want to practice.
Choose Binoculars Based on Usage
If you want binoculars for a specific primary purpose such as birdwatching, observing particular animals or astronomy, the basic guidelines you will read below, can help you narrow down your choices.
Magnification and size are obviously the starting point, but you will also have to take into account the optics and other features.
1. Trekking Binoculars
Since the size and weight in a backpack are key factors in being able to walk light, we recommend compact hiking binoculars with magnification of 8 or 10 and a lens diameter of less than 28 (8×25, 10×25, 8×28 and 10×28 are all great choices).
Choose one with a rubber coating so it will be more durable. In addition, water-resistant or waterproof models will prevent the binoculars from spoiling on contact with water.
2. Birdwatching Binoculars
In this case, the weight will not be so important, so you can turn to medium-sized or standard models (8×32 and 8×42 binoculars are the most popular among birdwatching enthusiasts).
Although a magnification of 10 could be useful for seeing a small animal in the distance, an 8-magnification binoculars will have a wider field of view, which is very important for locating birds.
Water resistance is always recommended, as well as models that do not fog up when switching from warm to cooler temperatures.
3. Binoculars for Wildlife Observation
The most popular models are 8×32, 8×42, 10×32 and 10×42.
Choose a larger magnification (10 instead of 8) when you plan to be further away from the animals, so as to narrow the field of view more. Choose the medium size (32mm lens) instead of the full size (42mm lens) if you want something a little more compact and handy.
Here, too, water resistance is recommended.
4. Binoculars for Stargazing
In this case, you will need to maximize the magnification and the ability to filter light into the binoculars.
You might consider a 10×42 or a 10×50; if you choose a higher magnification, you will need a tripod to hold the binoculars in place.
Features of the Binoculars
Dimension
For simplicity, binoculars are divided into 3 categories, based on the size of the lens lenses (the second number that identifies the type of trekking binoculars, for example 42):
Compact: Lens size is less than 30mm (8×25, 10×28, etc.)
Medium: Lens size ranges from 30mm to 40mm (10×30, 8×32, etc.)
Standard: The lens size is greater than 40mm (8×42, 10×50, etc.)
Keep in mind, however, that variations in optics, design and construction can cause the various binoculars to vary in weight in a single category. That is, there are for example several compact binoculars with different weights and so on.
If you are choosing binoculars to take it with you on your treks, you should opt for a lightweight model and therefore a compact one.
Medium-sized models can give you sharper, brighter images and be more comfortable to the touch. Standard binoculars, on the other hand, are much larger and less practical both to hold in your hand and to carry in your backpack.
Magnification Capacity of the Binoculars
Most of the time you will choose between magnification of 8 or 10, although you can find models with lower or higher magnifications.
8-capacity binoculars: has a wider field of view.
10 capacity binoculars: it has a more addressed and detailed view.
For example, binoculars 8×25, 8×32, and 8×42 will all have the same magnification: an object will appear 8 times closer than seeing it with the naked eye.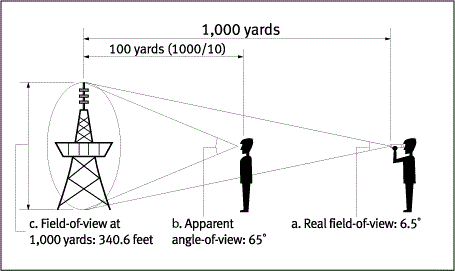 Although he may think that higher magnification is better, in reality, this is not always the case. This is because magnification also amplifies the movement of your hands, binoculars with magnification capabilities greater than 10 make stable vision difficult.
So, if you plan to use it in situations where it is difficult to remain stable with your hands, it is better to avoid this type of enlargement.
There are also zoom binoculars: they could be the ultimate solution, but they have some compromises in image quality. A bit like what happens in photography. Before buying a zoom trekking binoculars, compare it with fixed magnification binoculars.
Lens Diameter
The diameter of the lens lenses plays a key role in the amount of light your binoculars will receive. By comparing two binoculars with the exact same characteristics, the pair with the diameters of the larger lenses will capture more light, providing a brighter image.
Binoculars with higher quality optics will also have brighter images.
Output Eyepiece
This is the bright circle that can be seen in the center of each eyepiece when holding the binoculars about 30 cm away from the eyes with the lens lenses pointed towards bright light.
A higher value will provide brighter images. A higher value indicates better vision in low-light situations, and it will be easier to identify a complete image of an object if your hands move or tremble.
The size of the output eyepiece is calculated by dividing the diameter of the lens lenses by the magnification number.
For binoculars 8×42, 42 divided by 8 corresponds to an output eyepiece diameter of 5.25 mm. It indicates the size of the beam of light that reaches your eyes, whose pupils vary from about 2 mm in bright light to 7 mm in total darkness.
For low-light situations, an output eyepiece of 5 mm or more, can be fine: at dawn, at sunset or with dense vegetation, having a high value of the output eyepiece can facilitate vision.
For daylight vision, the size of the output eyepiece is less important because almost all binoculars offer output eyepieces that exceed 2 mm.
Distance Between Eyepiece and Eye
It is the distance between an eyepiece and the eye while you are looking with binoculars. This is a specific key if you wear glasses.
In this case, if you wear glasses, choose binoculars with an eyepiece-eye distance of 11mm or more.
Most trekking binoculars have adjustable eyepieces that allow you to set them to the maximum extraction value (the declared one). This is usually done by rotating the rubber eyepieces or by twisting a bezel to shorten the eyepieces.
Understanding the Optics of the Binoculars
Lens Materials & Coatings
This is where advanced technologies (and an endless series of terms to describe them) come into play.
The quality of the glass of the lenses, capable of reducing reflection, goes hand in hand with the clarity and brightness of the image. That's why you'll need to do some testing before buying binoculars.
In this way you will perfectly understand the magnification capacity that the trekking binoculars will have and the sharpness of the image.
Type of Prism
Prisms are the optical elements that direct light from the image through binoculars, to your eyes.
The old "leek prism" binoculars are equipped with a wider structure in the front, with the prisms not aligned with the eyepieces.
The newer "roof prism" models have their eyepieces and lens lenses aligned.
The difference in appearance is not enough to assess its quality, but having a "roof prism" binoculars allows trekking binoculars to be smaller and lighter.
Security Features of the Binoculars
There are various features containing the binoculars including;
Waterproof Binoculars
Rubber Coating
Fog-Proof Binoculars
• Waterproof and Weatherproof Binoculars
You could probably find yourself using your hiking binoculars even in the rain, so we recommend that you consider waterproof or weatherproof binoculars.
Also keep in mind that manufacturers sometimes describe any level of water resistance as "waterproof", although there is a distinction:
Waterproof binoculars typically use O-rings to insulate moisture. They can withstand water, but not prolonged immersion. Binoculars with this level of protection typically indicate "waterproof" in the model name.
Weatherproof (or water)-resistant binoculars are not completely waterproof. They can withstand light rains, but not a flood or a dive into a stream.
• Rubber Coating
Although it does not provide extremely safe protection from impacts of any type, a rubber coating is still useful to protect the binoculars from small bumps and accidental barrels.
It is a useful feature for any binoculars intended for use in harsh or technical outdoor environments, just like on a trail.
• Fog-Proof Binoculars
Binoculars can fog up when moving from a cold to a hot environment. Not only is it annoying, but it can also be potentially harmful if moisture were to get trapped inside.
To counteract fogging, binocular manufacturers take out the air inside and replace it with nitrogen, which does not contain moisture and therefore does not condense. This process protects against fogging of the inner surfaces of the lenses, but not of the external ones.
How to Focus on your Binoculars
Most binoculars have a central ring that focuses both barrels at the same time. They also have a "diopter" adjustment ring to focus only one part, allowing you to compensate for differences in vision scope between the eyes.
If you're wearing glasses, start by rotating your eyepieces completely down before you start.
To focus on your binoculars, do the following:
Cover the right lens* with a protector and sharply focus the center ring on a distant object.
Move the protection to the left lens* and sharply focus the "diopter" adjustment on the same object.
All done! Leave the diopters as they are and use the central ring to focus on different objects and views.
* If the binoculars have diopters on the left lens, reverse the lens coverage from steps 1 and 2.
How to Use Binoculars?
To get an idea of the simplicity of focusing, how comfortable the binoculars are in your hands and their clarity and brightness, you need to visit a store, where you can try many of the models you are considering.
If the retailer has nothing to get you tested, focus on a detailed item within the store. Pay close attention to the overall sharpness and brightness of the image, as well as the consistency of clarity and brightness from side to side in your field of view.